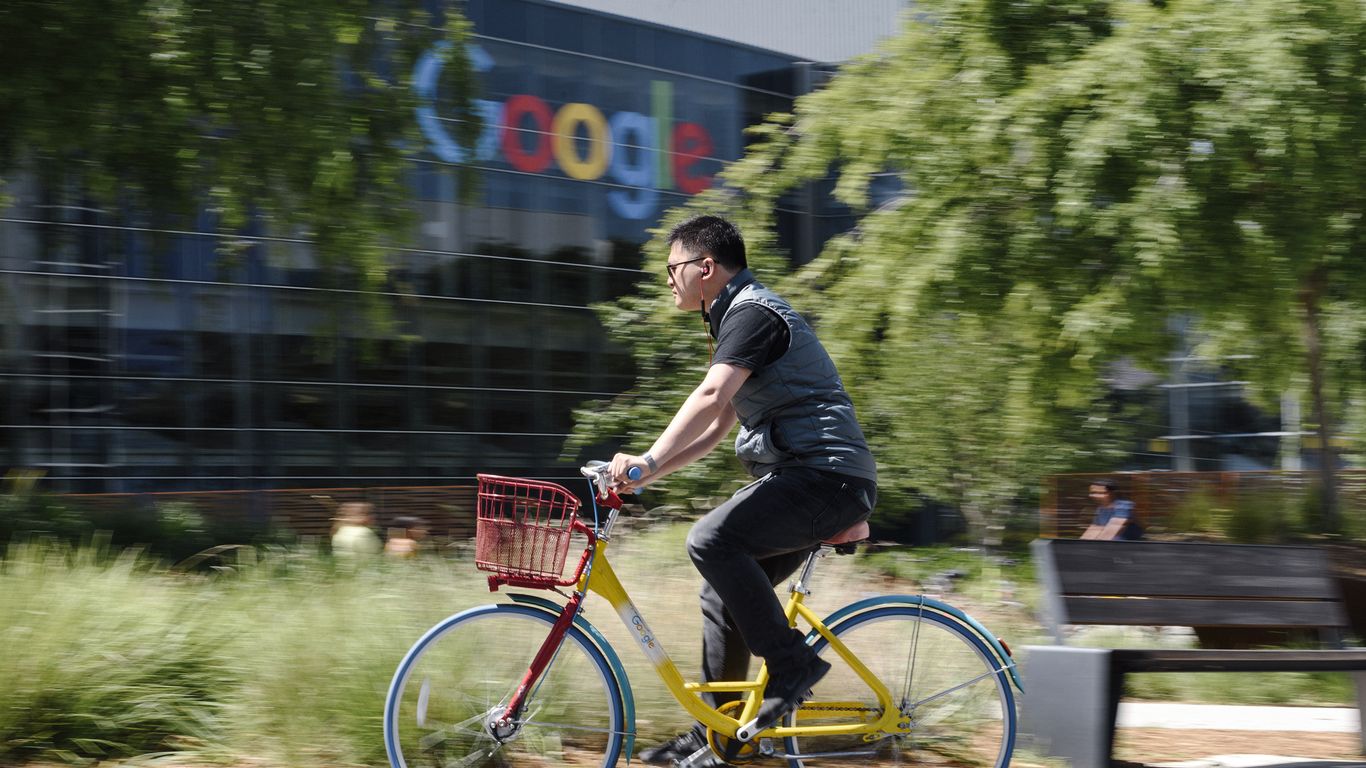 A group of Google employees want the company to end its contract with the Israeli government
A group of Google employees are calling on the company to end its artificial intelligence contract with the Israeli government.
Driving the news: Employee Ariel Koren quit this week after saying Google sought revenge on her for opposing Project Nimbus, a $1.2 billion artificial intelligence and IT services deal between Google, Amazon Web Services, and the Israeli government and military, reports The New York Times.
At an Alphabet Workers Union-led press conference outside Google's San Francisco headquarters, a small group of workers and Palestinian rights activists called on Google to suspend the contract.
State of play: Koren, who is Jewish, called on Google in May 2021 to pledge support for Palestinians in light of Israel's attack on Gaza that killed more than 250 people, reports the Los Angeles Times. In October, Koren publicly criticized Project Nimbus, calling on Google to break its contract because she feared Israel could use the technology to surveil and harm Palestinians.
Koren said his manager gave him an ultimatum a month later to move from San Francisco to Brazil or quit. Google and the National Labor Relations Board investigated Koren's complaint and found no wrongdoing, according to the NYT.
Earlier this year, hundreds of employees signed an internal petition demanding that Google stop its alleged retaliation against Koren.
This week, Koren wrote an open letter about the retaliation she says she faces and Google's alleged anti-Palestinian bias.
Project Nimbus came into effect in July 2021 and lasts for seven years.
What they say : "We are here because Google management has decided that harming the nations of the world with the tools of surveillance, control and violence is more important than the values ​​of their workers, the safety of their users and the lives of Palestinians" , Gabriel Schubiner, a Google employee and member of the Alphabet Workers Union, said at the press conference.
He added that Google has "chosen apartheid over justice" and "money over morality".
The other side: Neither Google nor Amazon responded to Axios' request for comment, but Google previously told the NYT, "We are proud that Google Cloud has been selected by the Israeli government to provide public cloud services to help to digitally transform the country."
Google also said the company prohibits retaliation in the workplace.
And after: Technicians from the No Tech for Apartheid group are planning a day of action on September 8 against Google and Amazon to demand that the companies end their contracts with the Israeli army.
Workers plan to hold direct actions outside Amazon and Google offices in San Francisco, Seattle and New York.