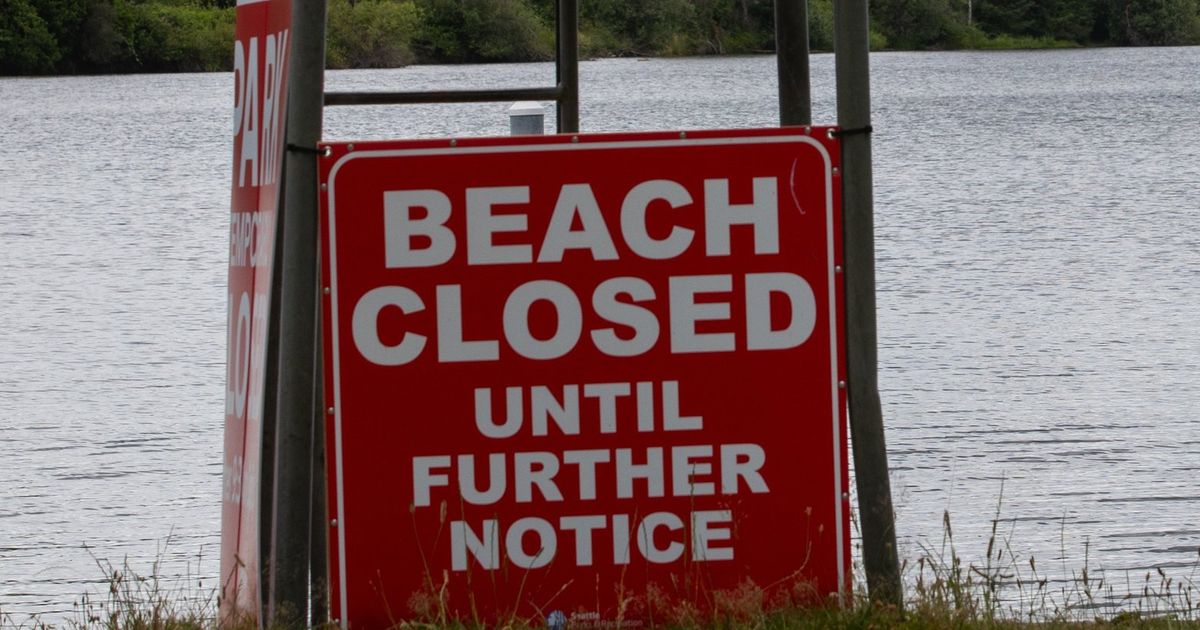 Faced with 50% vacancies for lifeguards, Seattle Parks considers summer closure of beach and pool
Facing a further shortage of lifeguards, Seattle Parks and Recreation said it's unlikely all swimming beaches will be open this summer.
Typically, 420 lifeguards are employed at this time of year. But currently, there are fewer than 200, according to department spokeswoman Rachel Schulkin. There are also more indoor pools open this year, which creates an additional challenge for staff, she said.
While park officials are still deciding which pools and beaches to staff, Schulkin said the department plans to close a similar number of beaches as last summer.
Last year, the beaches at Seward Park and East Green Lake Park were closed due to staffing issues. Currently, the Medgar Evers and Evans indoor pools are closed and will likely remain closed through the summer, according to Schulkin.
"As we move into summer, we really want to prioritize opening the beaches and our outdoor pools," she said. "We will also be leaving several of the indoor pools open, but expect to see some impact there."
The problem is not isolated to Seattle. According to American Association of Lifeguards.
Pool lifeguards are more likely to be older adults and retirees, who have risen to the lifeguard chair as the number of young applicants has dwindled in recent years, even before the pandemic. According to the Bureau of Labor Statistics, fewer teens are looking for jobs, opting instead for internships and extracurricular activities.
In Seattle, many lifeguards were released or reassigned early in the pandemic when pools closed and training and certification programs were suspended, Schulkin said.
Renton is also struggling to recruit lifeguards and will not be staffing Gene Coulon and Kennydale beaches this summer. The city has hired about 45 lifeguards but needs about 80 to staff its aquatic center and two swimming beaches, according to Recreation Division Director Carrie Nass.
Only the aquatics center will be staffed and open this summer — fully operating seven days a week for the first time since 2019, Nass said.
"As with many local and national municipalities, we are struggling to find enough staff to monitor and fully operate our three sites, despite the significant increase in hourly wages, the provision of free training courses and lifeguard certification and partnering with neighboring agencies to share staff," she says.
In Bellevue, the city has increased its hourly wage for lifeguards to $17 and added a $250 hiring bonus as it hopes to hire 15 more people this month to help staff all six beaches and the center. aquatic center, spokeswoman Christina Faine said.
The town of Kirkland is "lucky" to have a full aquatics staff to keep its three swimming beaches and pool open this summer, town spokesman David Wolbrecht said.
As Seattle Parks and Recreation seeks to hire "anyone and everyone," Schulkin said the department needs experienced lifeguards especially to help oversee safety at the beaches, which are more dynamic and challenging than swimming pools, she said.
People can still swim at unsupervised beaches at their own risk, although Schulkin warned drownings often occur when people lose energy swimming in surprisingly cold water.
"It's something that people consistently underestimate year after year, so we believe the best and safest swimming experience is a supervised beach," she said.
With the difficulty of hiring, Seattle Parks has not yet released a schedule for supervised beaches this summer. But generally, beaches and outdoor pools in Seattle open around June 25 and close around Labor Day.
Open beaches and outdoor pools are open from noon to 7 p.m. on weekdays and from 11 a.m. to 7 p.m. on weekends.
Jobs are available through Seattle Parks and Recreation for all ages and experiencesSchulkin said.