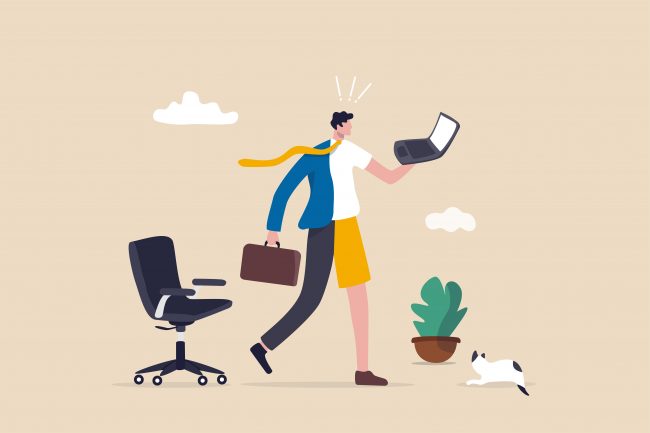 Hybrid work: the best of both worlds and a potential culture killer
Employers these days seem incapable of making up their minds. They want everyone back in the office, and then they don't. Or they want them to work from home two days of their choice per week (but probably not on Fridays, because that's like offering a three-day weekend). Then they want them to come back every day – but only if they want to – and as long as remote employees aren't subjected to feelings of FOMO.
The so-called hybrid working strategy seems like the perfect solution for a workforce that has one foot in the office and one foot out, but in their attempt to implement a plan that appeals to all employees, employers who are not careful could instead sow confusion. , chaos and a feeling of disconnection.
Madison, Wis.-based think tank Filene Research Institute recently shed light on this evolving workplace strategy. Alguard, whose Seattle-based design-build firm works with credit union and community bank clients, recently conducted research with credit union executives for a soon-to-be-released Filene report on the subject.
To preface Alguard's insights, Filene's Senior Director of Research, Taylor Nelms, highlighted the importance of designing an attractive work environment for employees and potential employees by presenting alarming statistics on how the market work has radically changed:
Gallup reported that two-thirds of white-collar workers were working remotely at some point in September 2021; of these, nine in 10 would prefer to do so in the future and three in 10 were extremely likely to seek new employment if their company cut remote work.
Also in September 2021, McKinsey & Company reported that 40% of all US employees plan to leave their jobs in the next three to six months, and 39 million people quit in the first 10 months of 2021.
A survey conducted by Cornerstone Advisors in December 2021 of mid-market U.S. financial institutions found that the industry's top concern for 2022 is attracting and retaining talent.
In 2021, Gallup found employee engagement dropped for the first time in a decade, with only a third of employees reporting being actively engaged.
Remote working has its benefits – cost savings, no commuting and better work/life balance, to name a few – but it can also lead to an erosion of loyalty, seniority and employee culture, Alguard warned, noting that credit unions are known to have strong cultures and so any deterioration in culture could pose a risk.
At Momentum, employees are in the office three to four days a week, which Alguard says helps them develop deeper relationships with each other, build trust, solve problems more easily, and take action. better decisions, which contributes to the overall success of the company. But what works for Momentum won't work for all organizations.
When defining a hybrid work strategy, credit unions need to find one that leverages employee strengths, enables their best work, and ultimately helps the credit union achieve its individual goals. There is no single hybrid working strategy and there are many facets to consider – all of which will result in unique answers and solutions, according to the credit union.
One thing to keep in mind when asking for internal feedback on a proposed hybrid strategy, according to Alguard, is the bias employees may exhibit. An employee who is asked if remote work works will likely offer a self-absorbed answer about how their own productivity has improved, but they miss the fun they had with others in the office. other words, his comments may not be of much help). Instead, leadership should guide decision-making based on the credit union's goals, which may include less turnover or faster onboarding. "With your goals in mind, consider the work, interaction, and employee experiences that will need to take place, and from there you can consider the characteristics of your space," he said.
Other questions to ask to determine who should work, from where and when:
How will hybrid working affect innovation and cross-pollination? Will employees be siled or exposed to what others are doing so they can assess the impact of their work on the entire organization?
If some roles are entirely remote, would it be more efficient to outsource those roles?
Can interpersonal relationships and trust be built virtually or must they be built in person?
How can your strategy balance collaborative work with focused solo tasks?
Will hiring remote workers outside of your market support the growth of the credit union, or will growth only occur if workers regularly collaborate in person?
If you include remote work in your strategy, what is the reason? Is it just a benefit for the employees? (If so, that's totally OK.)
Another thing to consider when designing a hybrid work strategy, Alguard pointed out, is whether it supports the idea of ​​staff democratization. So if allowing remote work is sometimes on the table, all employees should have this option if possible. Having knowledge-based (and likely better paid) employees working remotely, but requiring cashiers to be on-site because you're concerned they won't present the most professional environment to members in video from home, for example, creates an equity problem. And to even out meeting attendance, leaders can have everyone join in on video from their individual device, whether they're in the office or at home.
Speaking of equality, how can you ensure that every employee's workspace, whether onsite or offsite, is ergonomic and conducive to productivity? Could you, as Alguard suggested, send a designer to remote employees to reconfigure furniture and help them choose new pieces to create a more comfortable environment? This seems to me to be a great benefit for the employees.
When it comes to designing a common office space as part of a hybrid work strategy, the approach could be similar to how a credit union offers its members multiple channel options, letting them decide how they want to access the service: Provide a variety of workspace types so employees can choose one based on their individual work style and day-to-day needs. A hybrid office could include a mix of shared offices, dedicated workspaces, private offices and café-style workspaces that promote collaboration, Alguard noted.
If you don't know where and how people should be working right now, what the office should look like — and whether there should even be an office — you're not alone. We are at the start of a major change in the way people work, and hybrid working strategy roadmaps, like the one proposed by Filene, are also in their infancy. We may not know where the path to the workplace of the future will take us, but for now, staying as flexible as possible, while striving to create an environment that employees will want to work in, can lead in the right direction. .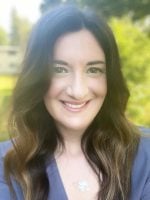 Natasha Chilingerian is the editor of CU Times. She can be reached at [email protected]