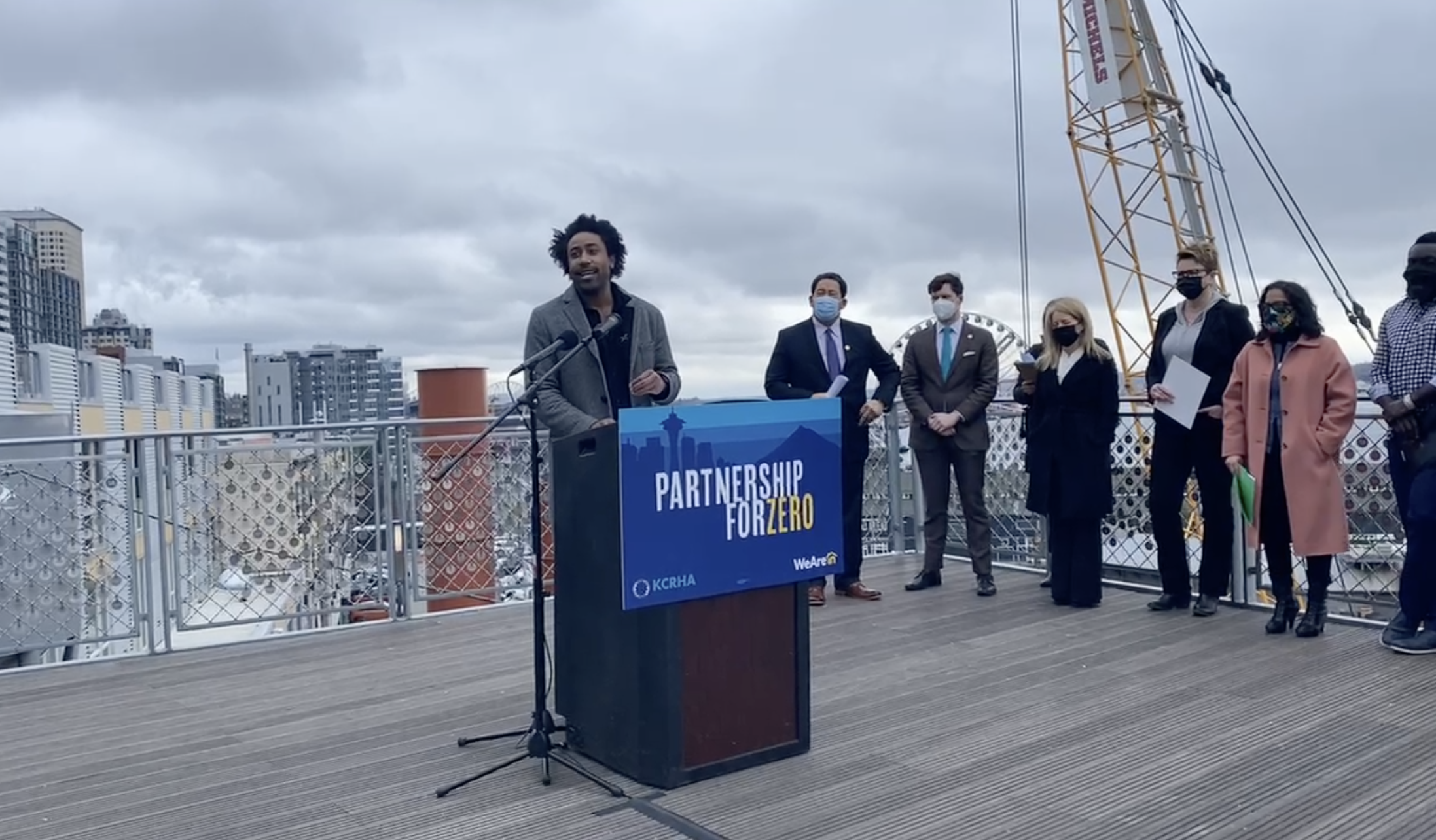 New regional model for homeless services funded by partnership between government and commercial interests | Feb. 23-Mar. 1, 2022
A new coalition of local governments, the regional authority for homelessness, business and philanthropy announced on February 17 that it would invest $10 million in a pilot project to tackle homelessness in the city centre. city ​​of Seattle.
The plan, called Partnership For Zero, involves a combination of elements including a "unified central command", peer navigators and a list of names. The command center will allow partners to communicate and coordinate target information and resources. Peer navigators are outreach workers with lived experience who will work with their client caseload to navigate the system and housing. The list of names is a tool to achieve this objective, listing the declared needs of people.
The Seattle City Council chose not to fund peer navigators during its 2021 budget discussions.
Partnership For Zero builds on the model used to create the KCRHA in which the City of Seattle and King County ceded most aspects of homelessness policy to the authority while funding it to the tune of hundreds of millions of public dollars.
"People had to do something that they don't naturally do, which is to give up power, give up control, give up authority," Constantine said at the press conference on 17 February.
The partnership involves the City of Seattle, King County, and We Are In, a public-private partnership that includes businesses and philanthropic entities. Part of the goal is to ensure that more private resources dedicated to addressing homelessness go in the same direction, We Are In founding director Felicia Salcedo told Real Change (Disclosure: Salcedo is a new board member of Real Change).
"They gave a lot of direct grants to organizations, and because of the fragmentation of the system, we didn't have a good idea of ​​their impact," Salcedo said. "It was also very important to bring them together to show their support for the regional homelessness authority, while allowing them to see progress."
A key part of the proposal is the Peer Navigation System, championed by the Washington Lived Experience Coalition, a group of people who are currently homeless or have been homeless in the past. Peer outreach has a positive impact on people experiencing homelessness, said Dr. LaMont Green, CEO of LEC.
"We recognize now more than ever that those closest to the problem are closest to the solution, but often furthest from power and resources," Green said at the Feb. 17 press conference (see Green's editorial elsewhere in this issue).
The coalition announced it has $10 million in its first year to fund a pilot project to address homelessness in downtown Seattle. This will require more shelter beds and a variety of other interventions, including diversion, rapid rehousing, permanent supportive housing, small house villages and authorized encampments, Salcedo said.
An estimated 20% of people living downtown without shelter will require "high acuity" shelter with infrastructure to support people who are chronically homeless, have comorbidities, or otherwise have "high needs ", she said.
Partnership For Zero was greeted with cautious optimism by the Third Door Coalition, an alliance of business leaders, service providers, researchers and others working to end chronic homelessness. It emphasizes permanent supportive housing and the "housing first" strategy.
In a statement, the Third Door Coalition applauded the peer-navigation model, but questioned a key element underpinning the proposal: housing supply.
"Increased navigational resources without corresponding investments in housing… will quickly run into a basic problem: navigation to where?" wrote the Third Door Coalition in a statement.
The announcement remains preliminary, in part because KCRHA is still in the process of staffing its peer navigation system. However, the organization hopes the pilot project will be successful and applicable in other parts of King County.
KCRHA CEO Marc Dones warned that "there is no good announcement on homelessness" except one where officials can credibly claim that the crisis is over. This announcement was a commitment to make it happen.
"We can and we will do better. It is what it is today," Dones said.
Read more from Feb.-March 23. 1, 2022 edition.