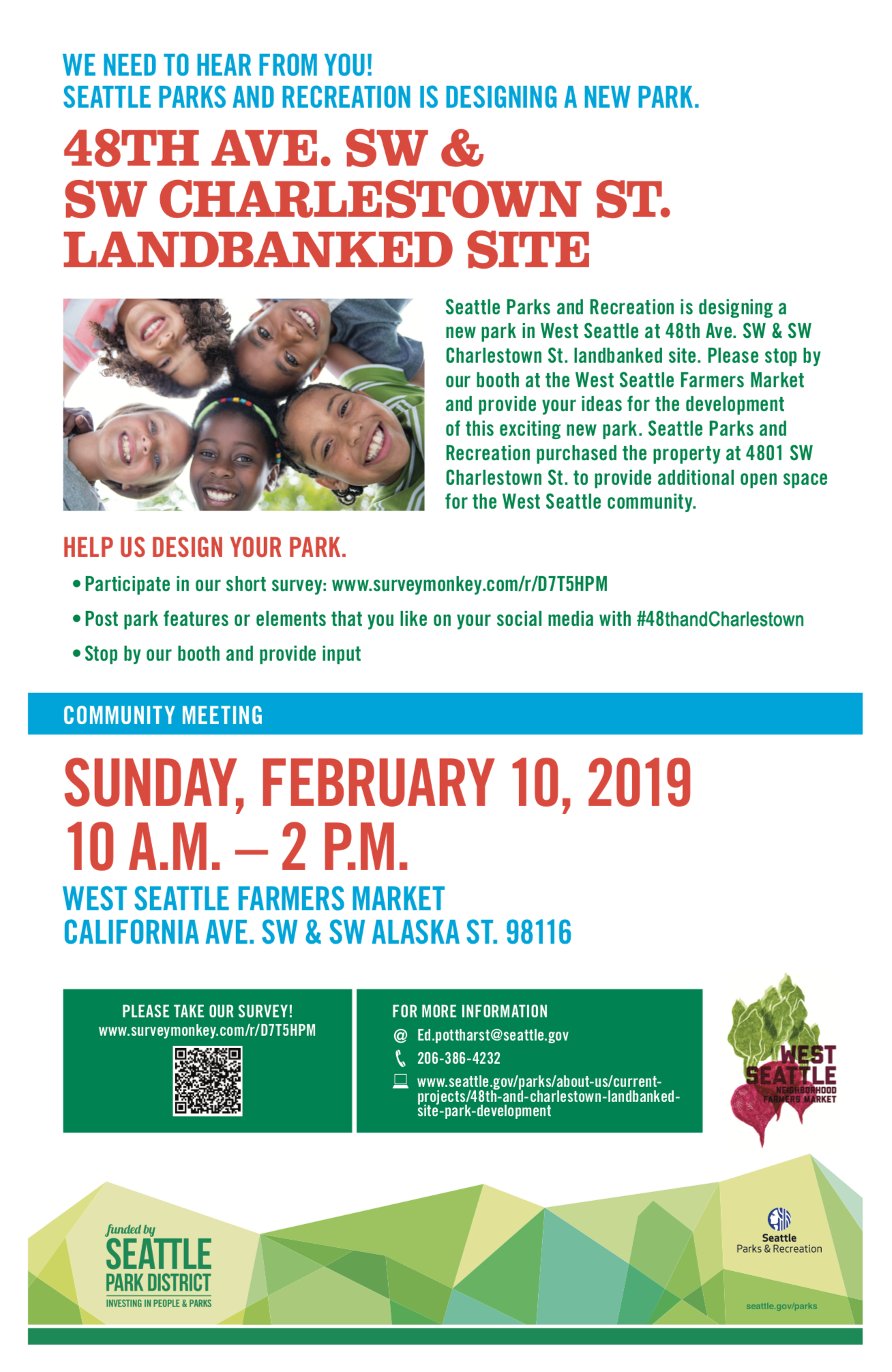 Seattle Parks and Recreation invites participation in the design of the new park at 48th Ave. SW and SW Charlestown St. in West Seattle
Seattle parks information
Seattle Parks and Recreation (SPR) has a booth at the West Seattle Farmer's Market, 44th Ave. SW and SW Alaska St., Sunday, Feb. 10, 2019 from 10 a.m. to 2 p.m. This is an opportunity for the community to learn about the new park project on 48th Avenue SW and SW Charlestown St., meet the Cascade Collaborative design team and give your opinion on the design of this new park. district.
SPR will work with the community on the design of the park and encourage community participation. Please visit our stand on Sunday, participate in this short survey (https://www.surveymonkey.com/r/D7T5HPM) and publish design ideas on your social networks with the hashtag # 48thandCharlestown.
SPR purchased the 0.23 acre property in 2014. The park design will incorporate accessibility features consistent with the US Disability Act and provide access to open spaces for the neighborhood.
This park project is made possible by the voter-approved Seattle Park District, which provides more than $ 47 million per year in long-term funding for SPR, including maintenance of parks and facilities, operations community centers and recreation programs, and the development of new neighborhood parks on previously acquired sites.
For more information or for translations of meeting notifications, please visit
http://www.seattle.gov/parks/about-us/current-projects/48th-and-charlestown-landbanked-site-park-development. For questions about the project or if you require an interpreter or accommodation, please contact Ed Pottharst at 206-386-4232 or [email protected].