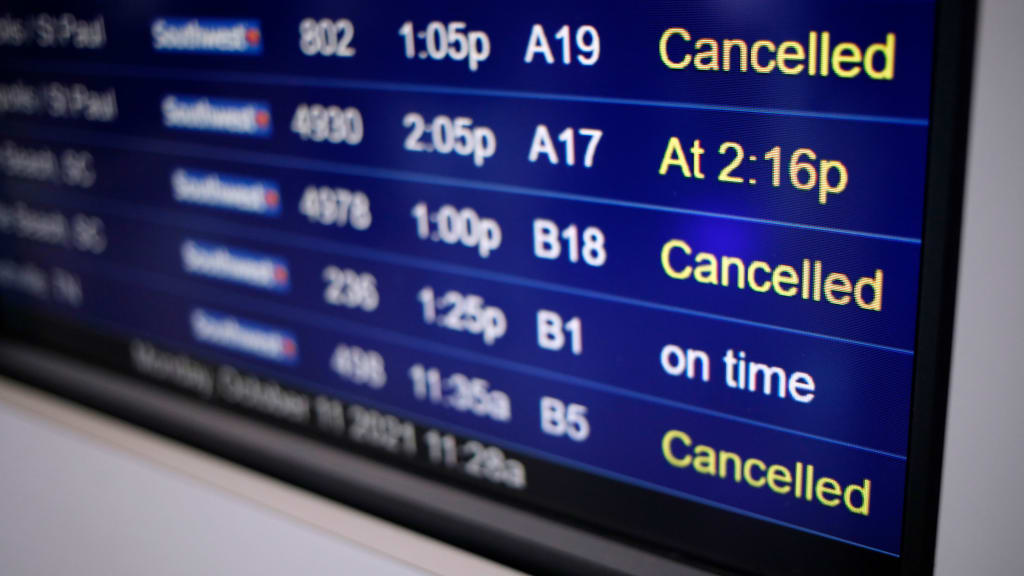 The Feds Just Proposed Changes Airlines Will Hate And Passengers Will Love
The Department for Transport has proposed new rules that would require airlines to issue full refunds to passengers if a flight is canceled or delayed by more than three hours (six for an international flight). They must also reimburse passengers who cannot travel due to illness or choose not to travel in order to meet public health guidelines.
There is a 90-day public comment period for the proposed new rules. So far, feedback from the traveling public has been overwhelmingly positive, and there has been little public comment from the airlines, although I suspect they are saying a lot behind the scenes.
Here's what the new rules would mean for you.
1. No more calling a cancellation a "change".
The day before my scheduled flight from Seattle to Toronto to speak at the Collision Conference, I received a robocall from my airline, advising me that my flight had been "changed". The so-called change was that, rather than two flights with a layover that would get me to Toronto the same evening, I now had three flights with a 27-hour layover that would get me to Toronto a day late. There was no mention of a hotel room during this overnight layover although, depending on the reason for the delay, the airline might have been legally required to provide one.
Existing rules require airlines to issue refunds if a flight is canceled or significantly delayed. The problem is that the DOT has not defined what constitutes a "significant" delay, leaving airlines free to apply their own interpretations. The new rules now define this significant delay as three hours for a domestic flight or six hours for an international flight – or if an unscheduled stopover is added to the journey. Passengers are also entitled to a refund if changes mean they won't get the first class, business class or upgrade seats they paid for.
2. New health rules could make us all safer.
Right now, airlines – and even some travel insurance – won't reimburse you if you don't travel because you're sick, or because you might be contagious, or because of public health guidelines such as a home-order stay or modified entry conditions. The new rules require airlines to issue credit with no expiration to anyone who does not take a flight for one of these reasons. This is a rule that will also benefit healthy people because currently someone who has been exposed or tested positive for Covid-19 or any other contagious disease stands to lose their money if they decide to do the responsible thing and stay at home. This creates a financial incentive for contagious people to fly, making planes and airports more dangerous for everyone.
3. Refloated airlines have additional responsibilities.
This last rule has a particularity for airlines that have received government bailouts during the pandemic. They are obligated to provide refunds, rather than credits with no expiry date. I don't know about you, but this rule appeals to my sense of fairness. Airlines that received taxpayers' money due to a public health emergency should return some of that money if a public health emergency prevents customers from flying.
When might these rules come into effect? In addition to the 90-day comment period, the DOT is hosting a public rules meeting on August 22 at 10 a.m. EST via Zoom (you can register here). Although they haven't said much publicly so far, the airlines are likely to back down. Earlier this summer, in a letter to the DOT, an industry group blamed some of the delays on understaffed air traffic control, though statistics appear to refute that argument.
It should also be noted that while several senators publicly endorsed these new rules, all were Democrats. Despite its popularity, this measure does not appear to enjoy bipartisan support. All this means that the new rules are not yet concluded. Stay tuned, or maybe check out this meeting on the 22nd to find out what happens next.
There is a growing audience of Inc.com readers who receive a daily text from me with a micro-challenge or self-care or motivational tip. Often they text me back and we end up in a conversation. (Interested in joining? Here's more information and an invite to an extended free trial.) Many are entrepreneurs or business owners who seem to travel a lot and, like me, have found that was particularly hellish this year. These new rules cannot reduce the number of canceled and delayed flights, nor improve the currently abysmal air travel experience. But at least it might be easier to get your money back when things go wrong.