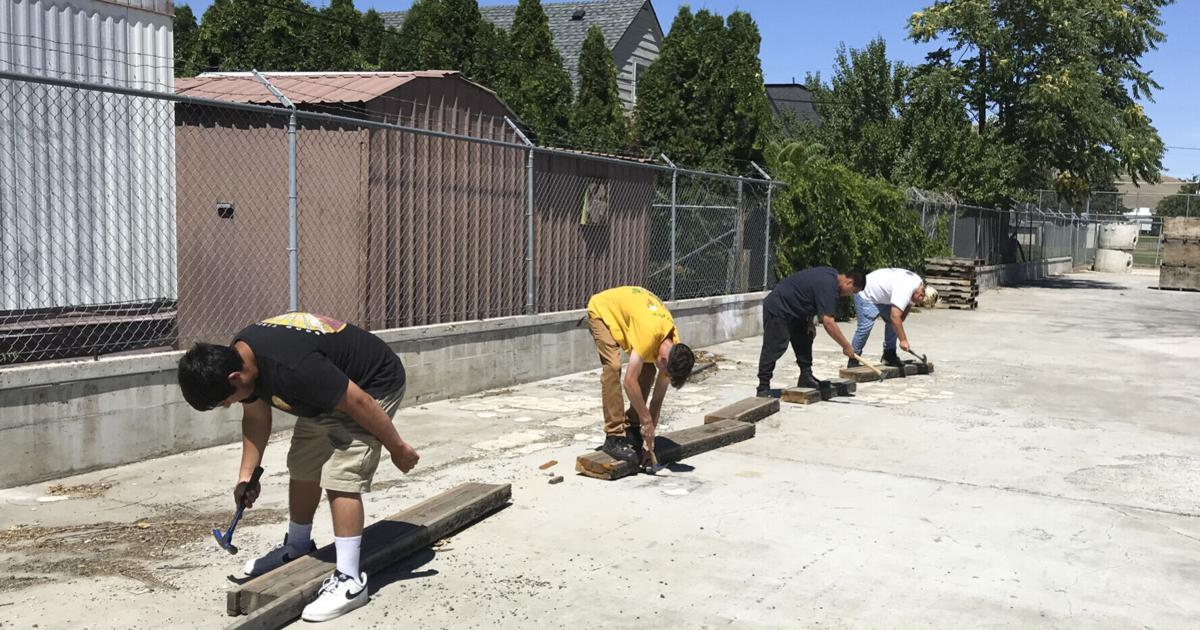 West Valley students gain experience building small homes bound for Seattle | Education
Victor Delgado, Riley Penuel, Devin Miranda, Donovan Stephenson and Skye Patrick took a moment to rest in the shade on Thursday. It was a hot day with temperatures soaring north of 90. They took a break after putting the finishing touches on a nearby tool shed.
Soon Roger McCausland – the students call him Mac – came over, stroked his long white beard, cracked a joke and told them to practice hammering nails. Mccausland is their teacher, but his subject is neither math, nor English, nor science. He teaches them to build.
Traditional high school is not for everyone. This is the idea behind the collaboration between the Opportunity Industrialization Center (OCI) and the West Valley School District. Through ICO's Futures and YouthBuild programs, students have the opportunity to earn their GED while gaining experience in areas such as construction or welding.
In the past, OIC has partnered with Habitat for Humanity to give students construction experience while building affordable housing in Yakima. This year, OCI and the West Valley School District are joining ANEW and the Low-Income Housing Institute (LIHI) in a statewide effort to build Tiny Homes.
Students will spend time studying for their GED exams while building one or two Tiny Homes, which will then be taken to one of LIHI's Tiny Home Villages in Seattle and used as transitional housing. At the end of the project, students will receive a $1,300 stipend for their work.
"I love the movement," said Stephenson, 17, referring to the goal of providing affordable and transitional housing. "I'd rather be here doing something than stay home."
Student experience
OCI enrolls about 30 students in the program and divides them into groups of eight. Students obtain basic OSHA safety certification before beginning any construction work. After their participation in the program, OCI will help students obtain apprenticeships, educational opportunities and soft professional skills, such as writing resumes or preparing for interviews.
Many students see it as an opportunity to learn a trade and start their career. Whether they plan to lay floors, work on cars, or take up carpentry, they feel like they've learned the basic skills to do so. For the past few weeks, they've been practicing for the tiny home projects by building a tool shed to the same dimensions.
"It caught my eye because I love construction," said Delgado, 20. He heard about the program from a friend. "It's a great career.
Students learn to use tools, cut angles, and frame doors while earning their GED through an ICO's flexible education program. They feel more comfortable, learn at their own pace, and feel empowered to ask questions and seek explanations from OIC teachers.
The content is interesting, Miranda said. He emphasized that it was not the information he disliked in more traditional teaching, but the setting. Miranda said he appreciates the educational environment of OIC and likes to learn.
"Physical school isn't for everyone," said Ashley Lieberknecht, coordinator of the West Valley School District's Virtual Academy, which helps oversee the program. "There are different types of learning."
Lieberknecht discusses student re-engagement in the West Valley and says this program achieves this goal in a significant way. West Valley School District Superintendent Peter Finch emphasized the importance of hands-on learning.
small houses
Representatives from the West Valley School District, OIC, LIHI and ANEW hope this is just the beginning of the collaboration. Melinda Nichols, a carpenter and consultant for ANEW, delivered the first small house materials on Wednesday. She praised Seattle's tiny homes and hopes to see more in eastern Washington.
The reason Tiny Houses are being brought back to Seattle is that there are currently no large Tiny House Villages in Yakima. It can be difficult to find the space and the funds, but the biggest obstacle can be the lack of buy-in from the local community.
"Community can also be an issue," said OCI Acting CEO Anthony Peterson. "The community must accept what is happening.
Last year, a small home project in Terrace Heights was derailed after neighbors filed complaints of crime and falling property values. Supporters of this village felt the complaints misrepresented the tiny houses, which they said would feature case management services for its residents.
The OCI and the LIHI, however, remained optimistic. A tiny house project is underway near Milroy Park.
"It's the start of something special," Peterson said.
In the meantime, students from the OIC Futures program and YouthBuild program will continue their education.
"We learn, we laugh and we grow," Stephenson said. "Now we know what we are doing."